Broken Springs
Is your garage door stuck? We've got you covered.
Factory torsion and extension springs have a long lifespan, but they don't last forever. In fact, these springs are usually rated for 10,000 cycles, lasting roughly five to 10 years, depending on how often you use your garage door and if you have routine maintenance performed. Once your springs break, you find out how much you rely on your garage door. Contact On Track Garage Doors today for a free estimate on spring repair! We keep our trucks stocked for speedy, professional repairs.
STOP! Leave Your Door Alone
It's extremely dangerous to attempt to open a garage if its spring is broken. Most garage doors weigh a couple of hundred pounds, meanwhile, wood and hurricane doors weigh even more. When you move an object of that weight, it can inflict harm on you or the contents of your garage. Contact us and our trained technicians will get the job done safely and quickly. Learn more about garage door springs in our FAQ.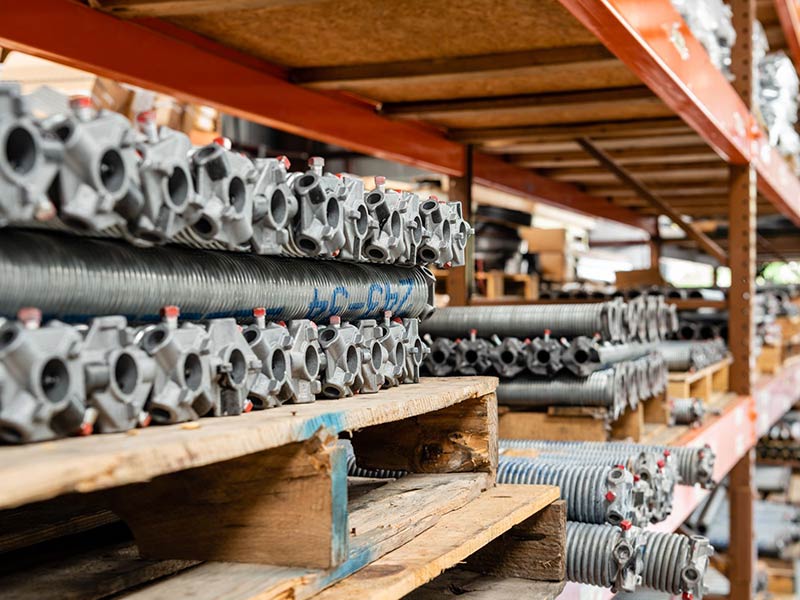 High-Cycle Galvanized Springs With a Long Lifespan
Garage door springs range by grade of quality. On Track Garage Doors is dedicated to installing top-quality, high-cycle galvanized springs that you can rely on for years to come.
Galvanized: Galvanized springs resist rust because (unlike all other coatings), it is the only corrosion protection applied before the spring is wound, guaranteeing all metal surfaces are protected, including the surfaces that you can't see.
High-Cycle: High-cycle springs consist of a larger diameter, heavier wire gauge, and longer than "standard-cycle" springs. Standard springs are rated for 10,000 cycles. High-cycle springs are rated for 50,000 cycles (open and close is one cycle). If you use your garage door for three to six cycles per day, you could expect 30+ years of service from our high-cylce springs. The large diameter puts less strain on the spring, providing an average of five times more life than our competitors.
Other companies may say that their spring has a lifetime warranty. This is false. There are multiple factors that contribute to spring life, from the condition of your other garage door parts to maintenance services, amount of use, and more. Any company that is offering a lifetime warranty without even looking at your garage door most likely won't honor it.