Hurricane Reinforcements
Let us protect your home from hurricane damage with garage door reinforcements.
Wind impact through garage doors can cause 80% of hurricane damage to homes and businesses in South Carolina. According to FEMA, a professional garage door specialist should evaluate your door for its ability to withstand storms. At On Track Garage Doors, we value safety above everything. Our garage door hurricane reinforcements offer an advantage when confronting the next hurricane. Contact us for a free estimate.
On Track Garage Doors' Reliable Hurricane Reinforcement Method
Do-it-yourself methods often don't stand a chance against hurricanes. However, On Track Garage Doors is here to help. We offer free, no-pressure estimates and demonstrations for our Hurricane Reinforcement packages. These include the following forms of protection against hurricane winds:
Ensuring the lumber the track is attached to is anchored securely into the wood-frame or block walls.
Installing two additional jamb brackets to each track to help anchor the track to the lumber.
Installing heavy-duty rollers to prevent the door from being knocked off of the tracks.
Installing three-inch structural reinforcements to each panel. This is the key element in the reinforcement of the door as it supplies the most strength to the system.
Installing one brace per panel for 100 m.p.h. reinforcement, and two braces per panel for 130 m.p.h. reinforcement.
Installing heavy-duty galvanized springs to properly counterbalance the door with additional weight.
Installing heavy-duty hinges on each end of door and securing them with eight screws per hinge.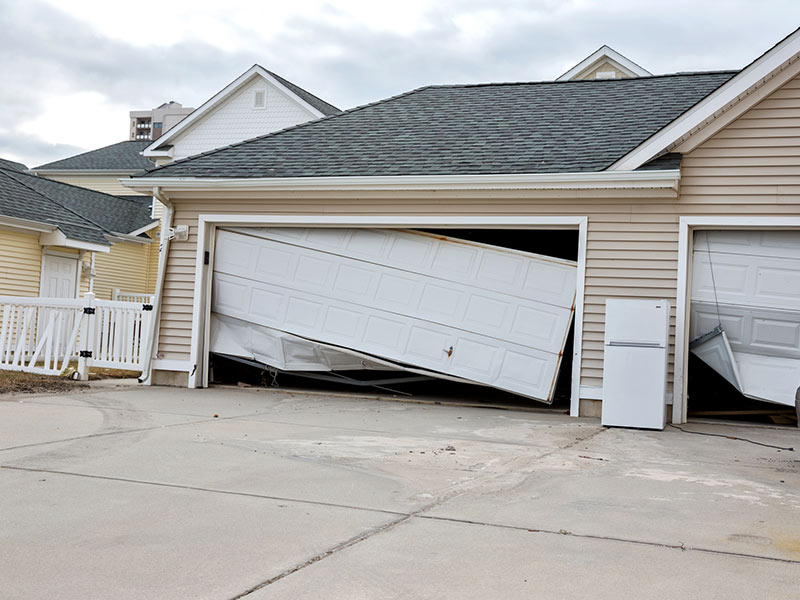 Advantages of Hurricane Reinforcments
In addition to our permanent hurricane package, vertical post reinforcements can be utilized. The posts provide additional strength but must be manually installed before a storm. Your door will remain inoperable until the posts are removed.
On Track Garage Doors' permanent reinforcements will provide up to 130 m.p.h. of protection if you are not home or unable to install the vertical posts. With our reliable Hurricane Reinforcement Method, you can have peace of mind knowing your garage door will withstand the wind speeds of any category of hurricane. Reinforcing your garage door is the key to providing the most protection for your home.
Doors with windows can also be reinforced. There is not enough wind that can enter through broken garage door windows to cause an updraft that will lift your roof from your home.